Have no idea what to wear in a 1990s party? I have your back with this one! We'll be looking into some outfits from the 1990s that you can choose from, and if you do not like the ones that I have set, I'll be discussing the fashion from the early 90s to the late 90s, so that you can put together your very own 90s look. You'll learn how to dress for a 1990s party here.
The TLC
If you have friends, grab some of them and go for the 90s girl band of R&B. You should think really bright clothes that are oversized, along with a bandana, some hoop earrings and also crop tees. This is the perfect outfit for you and your friends if you like to look goofy at the same time cute.
The Pretty woman's Vivian Ward
This is one of the best room coms that came out of the 1990s, and you would make a big mistake not to take the opportunity to style yourself like Vivian Ward for a party that is 1990s themed. You should try to recreate her Rodeo drive outfit because it is one of her iconic outfits, and people at the party would know who you are dressing up as. You should get a white crop top, a tie dye skirt that is color blue, with some huge gold hoop earrings, and lastly, black boots that reach your thighs and a bob wig. Make sure that the wig is blonde.
How About Courtney Love?
This is the ultimate style of the 1990s, go for the aesthetic glamour grunge that is by the brilliant Courtney Love. The outfit includes a silk dress that is bias cut, remember to put on a small tiara and lipstick that is a dark shade. You'll be popping out of the crowd with this outfit because you'll look elegant at the same time very grunge looking.
The Pulp Fiction's Mia Wallace
Are you looking out for an outfit that can really bring your dark side? Well, I have just the right one for you, go and dress up as Mia Wallace from the famous Pulp Fiction. To complete this outfit, you'll be just needing some simple things like a classic and plain white shirt along with a short black bob and a cigarette. I recommend using fake cigarettes since it is not healthy for you to smoke, and you wouldn't want to disturb the party with the smoke from your cigarette.
Helga from the cartoon Hey Arnold
If you know Hey Arnold, then you most probably know of Helga since she is an antagonist in the 90s show. If you want to dress like her, you will be needing a huge really pink bow, put your hair in some cute little pigtails and give yourself her signature unibrow.
Let's Go Salt n Pepa
You are going to need your friends for this one. Grab yourself some double denim, make sure that the denim is acid washed, also fetch yourself some really thick golden chains for a more swag-ish look and never forget about the super bright fierce red lipstick. This is the one for you if you want to show up at the party looking like a superstar.
Kate Moss and Naomi Campbell
Before the famous celebrities Kendall Jenner and Paris Hilton, the 1990s had the beautiful ladies named Kate Moss and Naomi Campbell, and there is no denying that these two were the supermodels of the 90s. They walked with style and a shiny and sparkly silver mini dress.
About Daria…
If you are a person that does not really like to go all out on their outfits, the 90s heroine is the one for you. The famous Daria if from the series called cult animated. Prepare big round glasses that are black along with a pretty and plain green jacket and also do not forget about getting yourself some dark sense of humor from Daria.
The Style Basics of the Early 1990s
A lot of the trends from the 1980s were carried on to the early 1990s. This includes the fluorescent colors being used on different types of clothing like t-shirts, sweatpants, jackets, and even parachute pants. There were a lot of popular clothing colors back in the 1990s, and those were green, blue, pink, orange, and of course yellow, most of the time all these colors were paired with different patterns that were inspired by pop art and some comic books.
The common looks that women wore in the 90s were baby doll dresses that were over some leggings, crop tops of different colors, and leather jackets that had shoulder pads. A lot of leather jackets that were worn back in the 90s were color back paired with jeans that were embroidered or colored, along with some slouch socks and Keds, or some ballet flats.
Now for the men of the 1990s, they wore very bright colored t-shirts, jeans that were colored, some denim overalls, sweaters that have stripes on them, jackets that were either leather or a letterman. For the feet, they also wore slouch socks and some cool looking sneakers.
The Fashion of the mid-1990s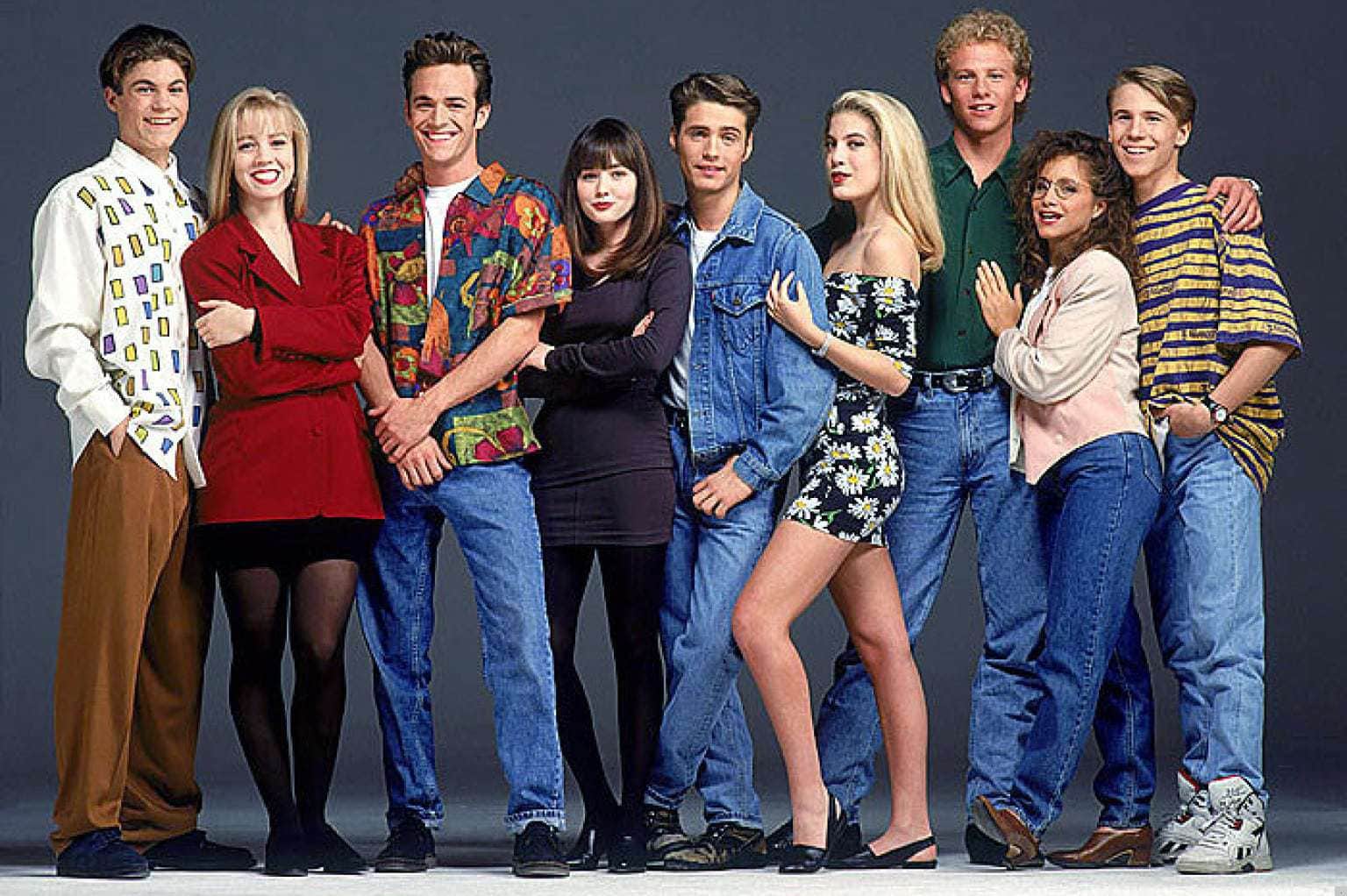 Going forward to the 1994 fashion, the year took a big turn to styles that were way more polished and more form-fitting clothing. The popular looks for women in the mid-1990s included pantsuits and skirts, which were tailored, hot pants, slip dresses, and skirts that are metallic, satin, vinyl fabrics, and sequin. Prints of very bright colors and cute little animals were very popular carryovers from the early years of the 1990s.
For the clothing of men, they featured bold prints, graphic t-shirts, the old leather jackets, and we cannot forget about the velvet blazers.
The Late 90s Style
Fashion of the late 90s was all about business casual for the men, and for the women, they revived the 1970s fashion that was inspired by many discos looks. The business look was popular because of the dot-com boom for men's fashion.
Check here how to dress for 1980s party.